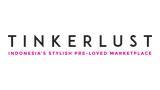 https://s3-ap-southeast-1.amazonaws.com/kalibrr-company-assets/logos/AHQRVCHQESSS6Y34K4CQ-57f5da33.png
Tinkerlust
Verified Kalibrr employer 
Alamat Kantor
Jl Sisingamangaraja No.11-A, RT.2/RW.8, Gunung, Kebayoran Baru. Jakarta Selatan
Tentang Tinkerlust
On average, a woman has approximately 90 items in her closet worth around US$ 1,000 and 51% of these items are not used at all. Most of those unused items ended up in the landfill with a total of 10.5 million tons of clothing a year.
Tinkerlust exists to help women make use of those 51% unused items and promote a more sustainable shopping experience. We make it simple for women to buy and sell preloved fashion items from fast fashion trends to high end brands.
In Tinkerlust we connect the desire to shop closets of Indonesia's fashionistas.
We're a venture backed company that is leading the way in sustainable fashion.
Join our team!
Meet our team: https://www.tinkerlust.com/who-we-are/