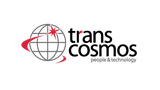 https://s3-ap-southeast-1.amazonaws.com/kalibrr-company-assets/logos/SLFJF3U6NE3KV8FQQ48N-59257af9.png
Transcosmos Information Systems Inc.
Office Address
6th Flr. Commerce and Industry Plaza Bldg., Mckinley Hill Cyberpark Fort Bonifacio, Taguig, Metro Manila, Philippines
About Transcosmos Information Systems Inc.
Established in Toyko, Japan over 50 years ago, transcosmos are widely recognised as the largest BPO provider in Asia, employing over 40,000 staff worldwide!
Transcosmos continues to pursue Operational Excellence by providing IT, Cusomter Support and E-commerce services through our 171 locations in 31 countries with a strong focus on Asia.
Furthermore, following the expansion of E-Commerce markets across the globe, transcosmos has been providing a comprehensive One-Stop Global E-Commerce Services to deliver the products and services of our clients to consumers in over 49 countries. transcosmos aims to be the "Global Digital Transformation Partner" of our clients, supporting the clients' transformation by leveraging digital technology, responding to the ever changing business environment.
Specialties
Digital Marketing, E-Commerce, Contact Center, Fulfillment, Web Integration, Omni-Channel DMP, Telemarketing, Analytics, Human Resources, Accounting, Back-Office, Order Management, SCM, Housing and Construction, Social Infrastructure, System Development and Support, and BPO
Job openings at Transcosmos Information Systems Inc.

Posted 5 days ago • Apply before 29 Sep
Recruiter was hiring a few seconds ago
1
/c/transcosmos/jobs/204489/recruitment-specialist

Posted 11 days ago • Apply before 11 Nov
Recruiter was hiring a few seconds ago
2
/c/transcosmos/jobs/210256/training-specialist

Posted 11 days ago • Apply before 29 Sep
Recruiter was hiring a few seconds ago
3
/c/transcosmos/jobs/203792/customer-care-agent-onsite