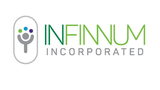 https://s3-ap-southeast-1.amazonaws.com/kalibrr-company-assets/logos/4CTM4J4VA8C4D8W49BG5-592fb650.jpg
Infinnum Inc.
Verified Kalibrr employer 
Office Address
Jollibee Centre, San Miguel Ave, 1605 Pasig, Philippines
About Infinnum Inc.
Infinnum Inc. provides various services in finance, accounting, business processes and technology with a special focus on "Managed Services" for family businesses through innovative and cost-competitive cloud technology solutions.
As a vital service partner in our clients' business growth and sustainability, we manage our clients' finance and accounting departments, participate in business strategic planning, provide IT solutions, audit services, and other corporate governance requirements.
Our client portfolio covers medium to large scale businesses in retailing, manufacturing, distribution and service companies. Up to 65% of our clients are from Visayas, Mindanao and Northern Luzon while 35% are in Greater Metro Manila.
The next 3 years will focus on the regional expansion of our offices and expanding our services to SMEs (small-medium enterprises.)