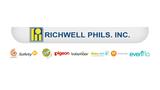 https://s3-ap-southeast-1.amazonaws.com/kalibrr-company-assets/logos/6JQ3KJZRRTS6BQPSDZSH-596376b8.jpg
Richwell Philippines Inc.
Office Address
8th Floor, The Richwell Center, 102 Timog Avenue, Quezon City, Quezon City, Metro Manila, Philippines
About Richwell Philippines Inc.
RICHWELL PHILS. INC. (RPI) is the leading distributor, manufacturer, and licensor of branded children's products in the Philippines. RPI holds the dominant position across different segments: infant needs, fashion, play products, and footwear. Our licensing capabilities and experience are extensive; our business partnerships stable and profitable. Our Love for the Global Child fuels our passion. RPI is the leading distributor and retail destination for global children's brands in the country. We are committed to attract and bring excellent brands and concepts that will help provide for the needs of the global child. With a fervent entrepreneurial spirit, we bring these brands closer, more accessible, and affordable to the Filipino family through our heritage and expertise. We trace our beginnings in 1979 with modest capital, a dream, and plenty of passion. We anticipated the need to market in a potentially huge niche in the children's fashion, novelty and basic needs segment. The company then started with the distribution of Mattel products, Barbie and Hot Wheels, in 1982 and other international brand like Safety 1st. In 1986, it became the exclusive distributor of Pigeon Baby products. In 2005, we expanded into apparel licensing with the Barbie brand and has since established ten retail stores nationwide. Then in 2009, we acquired the license for ELLE Kids, the chic French brand for children. Since then, we have added international brands to our portfolio such as Ergobaby, Monster High, Nautica Kids, Desigual Kids; and our very own M7J Kids Republic. We also distributed educational play products such as Melissa & Doug, Discovery Kids, Animal Planet, Baby Einstein, Haba, Emco, Oops, and Artec. Our company today is proud to spearhead another milestone in the children industry. The Ogalala Concept brings our company vision full circle as we create a truly Why Not World of Fashion and Play. RPI is supported by its affiliates: Internationale Globale Marques, Inc., – the Retail Solutions, New Projects and Licensing arm; and Richphil Visual Designs, Ltd., – our fabrication and retail set-up division.