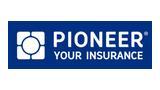 Branch Head | Zamboanga
Deskripsi Pekerjaan
To oversee Branch's operations that involves marketing, underwriting, collection, claims processing, supervision and administrative functions.
Solicits new accounts and maintains relationship of all the product lines of the Branch.
Underwrites all product lines within authority.
Ensures timely and persistent follow-up of outstanding accounts.
Negotiates with the assured or claimants on the amount of claims settlement.
Establishes and regularly reviews processes and standards to ensure meeting customers' needs/expectations and ease of transacting business with the branch.
Kualifikasi Minimum
At least 3-5 years experience in Sales/ Marketing;
Fluent in speaking the dialect;
People management skills is an advantage.
Jobs Summary
Tingkat Posisi
Kategori pekerjaan
Persyaratan tingkat pendidikan
Alamat Kantor

3/F room 306-307 BG Investment & Development Corp. Building 78 F. Nuñez corner Tomas Claudio Street, Zamboanga del Sur, Zamboanga City 7000, , Zamboanga City, Zamboanga Peninsula, Philippines
Industri

Insurance
Lowongan

1 lowongan dibuka
Agar merasa aman saat melamar: carilah ikon verifikasi dan selalu lakukan riset terhadap Perusahaan yang Anda lamar. Hindari dan laporkan situasi dimana Perusahaan membutuhkan bayaran dalam proses rekrutmen mereka.
Tentang Pioneer Your Insurance
For more than six decades, Pioneer has been serving the Filipino through non-life and life insurance and continues to be a hotbed of innovators and trailblazers who believe that insurance is a necessity. If you are brimming over with insights, teeming with creative ideas, and looking for a rewarding career, then Pioneer is definitely your future home. Join our family today!