Product Releases
Meet The Mother of The Philippine BPO Industry

Today, there is no doubt that the BPO (business process outsourcing) industry is one of the biggest contributors to the growth the Philippines' has achieved today. Aside from employing over one million Filipinos in the last 10 years, it made up 6.9% of the country's gross domestic product (GDP) in 2014, close to beating the 8.5% percent contribution from Overseas Filipino Workers (OFW) remittances from the same year.
It has raked in billions of dollars in foreign investments, and has attracted the biggest BPO companies of the world to set up camp here: Accenture and Transcom, just to name two. Moreover, the Philippines is slated to overtake India, currently the world's BPO capital, in the near future.
Despite the stigma of a headset-donning keyboard-rapping call center agent — that's only a fraction, by the way, of working in a BPO company, as you will find out soon enough — you can't fight the facts: the BPO industry has changed the entire employment landscape of the Philippines, and the way the world sees our country.
We are used to the fact that business leaders today are dominated by men. We think Bill Gates, not Arianna Huffington; Ramon Ang, not Tessie Coson. So it wouldn't be a surprise if you imagined that behind the meteoric rise of the BPO industry in the Philippines was a cabal of imposing men in suits and barongs, calling the shots from their throne-like swivel chairs.
But imagine this, too: among that cabal is a graceful woman, standing no more than five feet tall, wearing a jade pencil dress, a petite blazer, and a string of pearls around her neck. If you had seen her walking around Rockwell with a purse or a clutch bag, you wouldn't think twice about calling her just another Tita of Manila.
Meet Karen Batungbacal De Venecia: the mother of the Philippine BPO Industry.
A Day In The Life of Karen Batungbacal
Currently, Karen Batungbacal, as she is usually known in her circles, is the Executive General Manager of the QBE Group Shared Services Centre, the strategic hub of international insurance and reinsurance company QBE Group Insurance based in Australia. Since she took on the role in 2013, she has grown the Manila and Cebu offices from zero employees to at least 2,800 employees and counting. She is effectively running the entire Philippine branch of the company.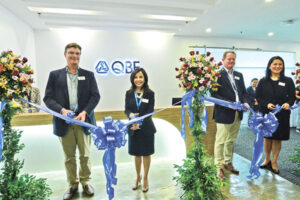 "But when I say that I run the company, when I run the operations here in the country, my role is more about enabling people, because I have [chief officers] reporting to me. They're really the ones responsible for work," she said.
Rather than simply referring to herself as a boss, Karen likes to see herself as the Chief Enabling Officer (which, in effect, technically brands her as the CEO of the company). While she delegates most of the team management to her chief officers, she remains to be the one responsible for removing roadblocks, making the big multi-million peso contracts that fuel the company's fire, and in general the face and spirit of the company. Aside from being the Chief Enabling Officer, she is also the resident "rah-rah officer," (cheer)leading the company to progress.
Still, that doesn't diminish the intensity of her work. To give you a glimpse of what it's like to be in Karen's shoes:
She starts her day at about 5 in the morning. She stays in bed, but the first thing she reaches out for are her two phones and starts looking at messages and emails.
"Australia is up, North America is still ending its day, it's the end of the day for Europe. It's a good time for me to [touch base with other country managers and QBE offices]," Karen told me.
Then, for the rest of the day, it's one meeting after another, whether it's about closing deals or creating new partnerships, or meeting with her officers to discuss company matters and projects. She'll be in her office only about an hour or so of the day, and then it's back to the grind.
Even when she's working out at the gym, one of her "me"-time activities, she's still just working.
"I'm very known, even in the gym, for just heads down [and texting]," she said, a little guiltily but also a bit proud of the fact.
It's not all about business, however. She would also have to take care of matters at home.
"I'm also the mom, I'm also the housewife," she added. "[The texts] can be about family. I have kids abroad. I have sisters abroad." When they run out of bigas, she's the one who has to take care of it. When rooms in the house need to have their lights replaced, she's the one who takes care of that, too.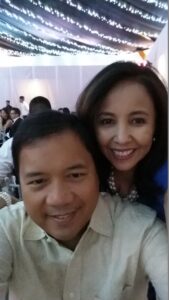 Making Decisions
You would think that Karen was born to do this from the very beginning, that being so comfortable in the BPO field, which she would lovingly call "our industry," she went into it more than prepared for it.
You would imagine that she was like many of the career-driven young people today who would be so picky and persistent with finding the "right" internship from the "right" companies, and then endlessly reading up upon their chosen field of work that they could spew out industry facts on command. You would at least think that fresh out of high school, she would head for a business course.
This is not the case at all. In fact, her college degree had nothing directly to do with where she is now today. After graduating from high school at 16, she went on to take up BS Chemical Engineering, first in De La Salle University-Manila (DLSU Manila) but finishing it in the University of Notre Dame in Indiana, United States.
Like many young people about to enter university, she didn't know what exactly to do with her life. She had initially thought of wanting to be a lawyer, but her mother discouraged her because that's not exactly a "woman's world," and there were too many lawyers anyway — it would be hard for Karen to distinguish herself among many other fish in the sea.
Besides, Karen got exceptional grades in maths and sciences in school, and like so many mothers, Karen's mother surmised that the high grades translated to her daughter's interest in those subjects, as well.  At the very least, however, the entrepreneurial spirit was already in Karen from the beginning.
"When I asked what a chemist did, it didn't sound very exciting," Karen recalled. "[But someone told me that] most heads of companies like Coca-Cola, Kraft, all these companies that [manufacture products] — a lot of the CEOs of these companies are chemical engineers, because the chemical engineer is the one that plans, that creates [the factories and the process that manufacture the products].
"Of course, as a sixteen-year-old, I thought, 'I could be CEO of Coca-Cola! Okay!'"
When Karen graduated from university, she found herself in love with the subject. She went on to pursue postgraduate studies in the prestigious Princeton University in the US, with the goal of not just completing a Master's Degree in Chemical Engineering, but a PHD in the field.
"My dream at that stage was to work for NASA, [but] I can't be an astronaut [because of my poor eyesight]. The only way to get up in space was to be a a research scientist working alongside payload specialist, and you would have to have a doctorate to do that," she said.
"It wasn't the only thing I was interested in, but it was one of my main draws."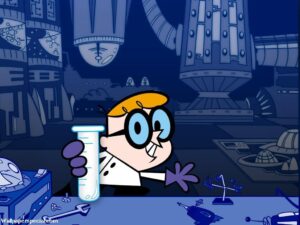 And for a while, it was great. She loved the theory of her chosen scientific field, and enjoyed the practical side of it, too. Comparing herself to the popular 90's cartoon character Dexter from Cartoon Network's Dexter's Laboratory, she had to build her own lab from scratch.
Moreover, she had chosen a field that few were interested in but had potentially significant impact in the fuel industry. Her dissertation on the fossil fuel catalysis was significant enough to actually receive funding from a major North American oil company.
However, it wasn't long before Karen realized this was not the field for her. The long hours — 12-13 hours a day, to be exact — she spent in her laboratory by herself started to take a toll on her, and even her adviser and the entire faculty saw that she was losing the energy for what once was her life's passion. She was a people person, and the lab work she was doing forced her into the solitude that she could not tolerate.
After a year into her dissertation, with the support of her department, she decided to leave Princeton.
Starting From The Bottom
So here she was — a 23-year-old chemical engineer and jobless. Karen knew what she wanted: a job that didn't leave her cooped up alone in a lab like a hermit, and, to add, a role that would eventually lead her to management position. (Remember the 16-year-old girl who got excited at the thought of becoming Coca-Cola's CEO?)
"When I looked around [for jobs in America], I thought I still wanted to work in my industry," she said. "I interviewed with Pfizer, Mobil Oil, P&G, and many similar companies — I did interview with companies like that.
"But because everyone saw my master's and my doctorate [experience in my resume], they kept trying to push me to the R&D (Research and Development) department, which paid more, mind you. And I kept saying, 'Can you put me in a management training program? Or product management?'"
The companies would then tell her that, fine, we understand what you want. So why not start out in R&D and then from there you could gain experience and work your way to the business side of things? Karen declined these offers. The two aspects of business are so different on the outset that it was difficult, if not almost impossible, to make that kind of jump.
A mentor advised her to look for general management training programs, instead of looking for management positions in specific departments. Companies were doing this for fresh graduates, and companies usually gave their trainees an opportunity to be trained across different aspects of the company.
This was how Karen applied for, and found a job, in American President Lines (APL), an international shipping company.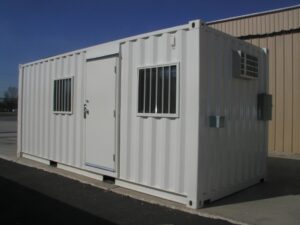 While international shipping is very different from chemical engineering, the job offered her the all-around training that she wanted, and needed, for her own professional growth. Besides, the management training program was set to start at in no less than the Wall Street office of APL in New York City – what more could she want? Not too long after, Karen made the leap.
When she accepted APL's offer, she was told that it was going to be a few months before her the actual program started. What was she going to do about money? So they asked her, Do you want to work as a customer service representative while you're waiting?
And in getting her foot in the door in the field of business, she also got her first paying job after college: putting on a headset, answering calls, resolving queries about clients' shipping orders, in a converted container at a port in New Jersey.
Working For The Lopezes
It wasn't long before she had to deal with another major career shift in her life.
After a few years in APL's offices in the US, she was asked to go to the Philippines for a two-year assignment. She would be setting up APL's call center in the country. However, after 5 years with APL, the firm wanted her to relocate back to the US permanently, something she could not do. During her time in the Philippines, she had gotten married and started a family. Moving back wasn't an option.
She decided to leave APL. It didn't take long for Karen to find a new job, however, and she joined Citibank to run Citigold Makati.
"I knew nothing about banking," Karen admitted about herself at the time. "But they said, 'No, it's okay. You're going to manage this function (Citigold). You're going to have 7-8 relationship managers. You have managerial skills. That's good enough for us.'"
She had a great time there, and she spoke highly of her work and time in the company. But it didn't take long for another shakeup to happen in her professional life.
It was in 1995 when she got a fateful phone call that would change the trajectory of her life forever while she was still working in Citibank. The Lopez Group — the same Lopezes who own ABS-CBN— was looking to start "something new." They were granted the license to build new telecommunications company, and the company didn't even have a name yet.
"[They told me that] you would be the first batch of senior leaders," Karen said. "My role was to head customer service for this phone company.
"I remember asking them, 'What does customer service mean?' They looked at me and told me, 'What do you think it means?'"
This all sounded up-in-the-air back then, especially since the Philippine government had just effectively killed the telecom monopoly of PLDT that year, and the notion of "customer service" was as new as it gets. Heck, even a telephone company besides PLDT was an alien concept before 1995.
"Citi was great, but it was very established. The thought of being part of something so new and being allowed to create [was exciting] None of us knew what a 'telco' was. The Lopez Group at the time had never created one."
After settling the details, she left Citibank, and jumped right in with this new venture of the Lopezes.
Karen chuckled at the memory of her early days with the company, which was only known as a subsidiary under the parent company ICC Telecoms.
"I shared my first office with another executive hired to be in sales," Karen told me. "He started ahead of me, so he got the desk. I got the couch and a box."
In less than a year, she would be part of the team that would establish BayanTel, a company that would make PLDT shake with fear in their shoes.
Being A Pioneer
Owing to the success of BayanTel, Karen was asked to be the Group Head of Customer Service for SkyCable and ABS-CBN. By this time, not only had she made her small, but significant mark, in the industry, but she had become comfortably placed within the Lopez Group's circle of trusted officers.
In 1999, Karen was reading the news when she ran into an interesting article. American Online (AOL), one of North America's biggest internet service providers, had just set up customer support center in Clark, supporting its US customer base, that had grown to over 500 staff due to the excellent talent AOL found in the Philippines.  (The year after, AOL expanded their presence.)
This was the "light bulb" moment in Karen's career.
At both APL and BayanTel, Karen established call centers as part of a business' operations serving local customers. But if AOL could confidently outsource their customer service operations overseas in the Philippines, why couldn't other US and international clients do the same?
"I quickly ran to Gabby Lopez and the group and said, 'What do you think about this whole industry (the BPO/customer service industry)?'" She thought that if AOL was doing this on their own — and AOL even chose to establish this business venture of theirs in the Philippines, of all places — then companies here can support the customer service needs of big US companies who needed bright, talented, English-proficient staff.
Karen wrote the business case to convince the board to enter this industry. At the end of the process, the board more than simply approved her proposal. In 2000, she became the CEO of the company, which they would call Customer Contact Center (or C-Cubed, C3, ), one of the first Philippine-owned and –established BPO companies.
The company would later be sold, not because of its failure but because of its success. And eventually, Karen would be faced with an interesting trend. Two other US firms where she set up their Philippine centers, SourceOne and ICT Group, were also sold and she would find herself in a constant wave of highs and lows: creating companies from the ground-up to thousands of employees, then soon after, leaving the sold firms successful yet unemployed.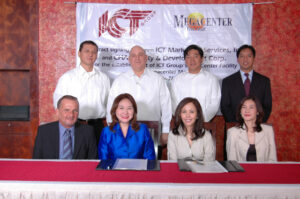 In 2009, she had had enough of this trend in her life. Looking for stability within the BPO world, she joined global investment banking firm JPMorgan and Chase, Co., as the Managing Director heading the Global Service Center with operations in Makati, Taguig and Cebu.
Becoming Mother of The BPO Industry
"The first few years in the BPO industry, I was travelling around the world, selling the Philippines," Karen said of her time in the investment firm. "In the beginning, business just wasn't coming here."
She was going to trade fairs, government-sanctioned business promotion trips. She was also talking to different companies all over the world.
Karen even remembered the times when she would talk to companies about the Philippines, and these companies would keep asking, "What part of India is the Philippines?" At that time, India was, and today still is, the world's outsourcing hotspot, and the Philippines was barely in the map of any savvy businessperson, if anyone at all. Karen realized then that before she or anyone could even sell her company's services, she would first have to sell the Philippines.
This led her to knock on the door of then-Department of Trade and Industry secretary Mar Roxas in 2004. Karen proposed the idea of marketing the Philippines as viable for foreign BPO companies to Mar, and the secretary, who had lived a long time in the US, understood right away the potential of the country waiting to be tapped.
"He loved it," Karen said about Mar's reaction, but Mar also said that the government could not speak to individual companies to achieve this goal. Mar told Karen that she, along with the leaders of the industry, would have to form an industry association to become the channel between foreign BPO companies and the Philippine government and local industry.
In the same year, Karen and her contemporaries co-founded the industry association that would become the IT and Business Processing Association of the Philippines (IBPAP), where she held the presidency for its first five years.
In the course of the next ten years, the IBPAP, which had started out as simply the BPAP, would be highly influential in the direction of the BPO industry's massive growth in the country. They would be responsible for dialoguing with the government in creating laws that will help the industry flourish. They would be the group that would formalize the notion of Next Wave Cities, Philippine cities designated by the IBPAP to be the focus of BPO development.
They would also be the group who would start the International IT and Business Process Management (IT-BPM) Summit, a globally-attended event that's been in the running for 11 years now.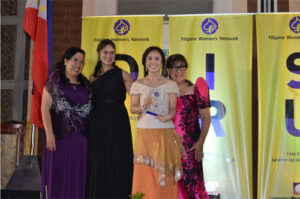 Leading As A Woman
By now, it's clear that Karen Batungbacal's efforts would easily dub her as the Mother of the Philippine BPO Industry, an industry leader for sure. Not only was she one of the pioneers of the Philippine BPO industry, she was also the catalyst of the further growth and advancement of the industry in the country. But that title comes with a problem in the Philippine business culture: she still has to contend as a woman in a field dominated by men.
For most of her career, this is not something that bothered Karen. All her life, she's been in environments that had made her comfortable being around men. During her university and postgraduate days, she would be surrounded by men in the masculine course of chemical engineering. She spent most of her time in international companies that saw to gender equality in the workplace.
"I've been described, even by my husband (Jose De Venecia III, son of former Speaker of Congress Joey De Venecia) who loves me to death, that I'm more male than female," she said half-jokingly.
She was comfortable being at the helm of things as a woman, and to be the one calling the shots in an organization. She admitted, though, that she still struggled at times to work with the men of the business community.
"I have to change the dynamic [when I have to be around a group of businessmen]," said Karen. The pare culture just isn't something a woman can easily penetrate.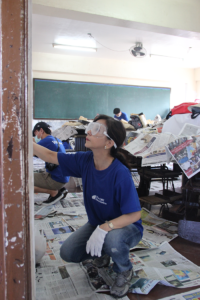 Still, Karen sees a lot of advantages in being a female leader. For one thing, a woman, especially female leaders, are more personal as a boss.  "There's no issue with showing our caring side."
She also considers woman's intuition as an important asset in being a female leader. In a society that prides rational thinking as a way at arriving decisions, individuals in the business world — and in this case women — who dare to trust their gut instead of absolutely trusting in the numbers are a rarity.
These qualities complements with Karen's personal brand of leadership.
"I'm very collaborative and consultative, because very early on, I realized the power of the team," she said. Karen doesn't believe in the practice of simply dictating directives to a team, and taking full control of everything that happens. To her, it all goes back to being the CEO: it's all about enabling people.
More importantly, she believes in the golden rule of management. "I manage how I want to be managed, as well."
Luck and Hard Work
Admittedly, luck plays a big part in the career successes in Karen's life, and even she admits that herself. That she got her job in APL; that she easily found a job in Citibank; that the Lopez Group hired and trusted in her; that she saw the article on AOL's call center, and so on: a big part of it was luck.
"This came after a lot of hard work, and also luck. I can't remove the element of luck," she stressed. "It's luck or grace, whichever way you want to look at it or position it."
But she also stressed that luck will be nothing without hard work.
"The hard work will get you prepared, so when that lucky moment appears, you're prepared [to make the most out of it]."
For aspiring professionals and leaders, she gives the following advice:
"Don't not do your job. Focus on the job on hand." You might be driven to be an overachiever, or to contribute in other teams outside of your own, but never forget to do what you are hired to do. This is a most important principle as a professional.
"Achieve consistently." Don't be a fluke. You might hit bumps on the road, but make sure you show that you can maintain the successes you've achieved.
"Find a mentor." And it doesn't have to be a formal mentor, according to Karen. Find a friend you can bounce ideas with and get work advice from.
A Future In BPO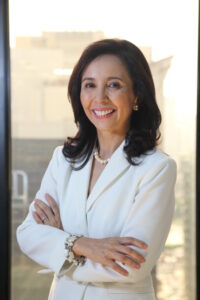 Once during a plane ride, Karen talked with a Filipino who was an accountant in Lagos, Nigeria. ("I love talking to people on planes!") The accountant told her that while it was indeed more dangerous there, the pay was definitely good. In fact, there were thousands of Filipino accountants working in Nigeria alone. And this is what hit her the most.
"I'm a mother. I know that about fifty percent of the time I wasn't around when my children were young, but at least I was around for the other fifty percent." Karen said this in jest, but it was clear there was gravity in her words.
For many OFW's, it's even worse. Sometimes, two parents have to be away from home, not raising their children. Karen is troubled by the fact that for these OFW's, leaving home and their children "has to be an economic choice."
She wants to bring these OFW's home, and she believes that the BPO industry is one of the solutions to reel them back in. Despite all the stigma behind being a call center agent, Karen asserts that there is a lot of good that's happening in the BPO industry. "I love what we're doing," she said. "[We're] bringing employment."
In fact, the so-called "lowly" and "dead-end" call center agent (that impression is not true at all) has a lot of opportunity to grow.
"If you're a smart and hard worker, and you're ambitious," Karen said. "I can't think of a faster route to promotions and managerial roles [than] in our industry, because our industry is growing exponentially."
And frankly, who in the right mind would reject a doting mother's advice?
Inspired? Sign up on Kalibrr today and find the right job for you. You can also subscribe to our weekly newsletter and get Kalibrr Career Advice straight from your inbox!