For Jobseeker
Kalibrr Joins Adamson University Welcome Week 2017

Last July 10, Kalibrr joined Adamson University as it kicked off another school year with Welcome Week 2017, a traditional event organized by the Adamson University Student Government (AUSG) and the Office for Student Affairs. More than 2000 students from all year levels flocked the ST quadrangle where most of the activities and games were held.
Themed "Soaring Beyond Boundaries and Breakthroughs," Welcome Week 2017 reminded Adamsonians to constantly challenge themselves in academics, extra-curriculars, and at work. For them, the event commemorated a fresh start – a calm before all the exams, essays, and problem sets.
Many activities were lined up for the week-long festivity. First, students were able to choose which organization they would like to participate in during the Student Organizations' Activation and Recruitment Fair. There was also a Blood Letting activity spearheaded by the Adamson University Biological Society. Lastly, at the end of the week, bands such as Moonstar 88, 6CycleMind, Autotelic, and more serenaded the campus that ended week-long event with a bang.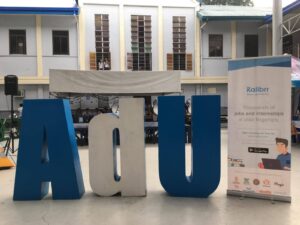 Kalibrr brand ambassador and AUSG Vice President for External Affairs Nikki D was one of the head organizers of the event. She represented Kalibrr with Dean Bulaon from the Kalibrr Partnerships Team. At the Kalibrr booth, students got to know more about the job discovery platform and were given the opportunity to create accounts. As they discovered unlimited job and internship opportunities, they are now more equipped to work in their chosen fields in the future.
As Kalibrr enters the campus scene with the help of Nikki D, Adamsonians are in for more exciting events and activities which will help them focus on their professional and career growth.
Are you looking to partner with Kalibrr for your events? Email us at partnerships@kalibrr.com
---