For Jobseeker
How I Beat My Hardships and Built a Career Training Others to Succeed

Started from the bottom
Being born to parents who were considered poor and did not finish their education may seem a cross to bear. My mom gave birth to me when she was 43 and to a father was a construction worker. My father was forced to work in Saudi Arabia and Iraq to make ends meet for the family while my mother worked as everything from a labandera, kusinera, kasambahay and even as a balut vendor.
We lived in a slum portion of Pasay, considered a "squatters" area. It was near the river and garbage dump. There was no electricity in our home and the "gasera" was the only source of light when it got dark. I used to wonder why the drinking water outside home was cold, having no idea what a refrigerator can do. In the beginning, my older brother, Marlon, and I couldn't go to school. Public school tuition was free but the family couldn't even afford the daily expenses.
It all sounds very unfortunate but the truth is that I never felt it. I never noticed that we were living an impoverished life. My parents sugarcoated the situation to protect us. I don't remember my parents explaining to us why we were having "asin, itlog or instant noodles" for dinner. My mother simply said that we had to eat in order to finish our school assignments which needed to completing if we wanted to play outside. My parents didn't want sympathy so kuya and I grew up knowing all this as "normal".
My parents also taught us to be independent. Kuya and I had to finish our chores before playing outside. We had responsibilities—we had to cook, fetch water, do the laundry, wash the dishes, clean the house and go to the market. To help with daily expenses, we sold polvoron in school. I would sneak into the classroom and place a piece on each of my classmate's seats. Very early on, I knew that sales required creating a want for your product. After this we sold handkerchiefs sewn by my mother, sago't gulaman, and mangga with bagoong.
Finishing high school was a tough challenge so going to college was not an option financially. I decided to work as a dishwasher and food attendant to help with the finances for my education. My first salary was P24.50/hour in a contractual job. I did this for six years while studying. Then I became a mascot talent wearing costumes of Jollibee, Hetty and Twirlie getting P240 for every 30 minute appearance. The costumes were heavy, hot, and sometimes unbearable but I had to do it if I wanted to stay in school.
A hard-knock life
If I didn't have work, I didn't have money for food. I'd spend lunch breaks in the library so that I could distract myself from the hunger. One day I didn't even have money for a jeepney ride and so I had to walk 2 hours to get home. Getting through school was a challenge but also an achievement—I never complained about how hard things were.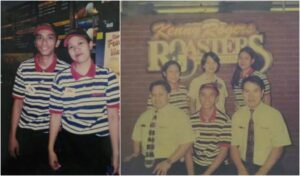 When I was 21, my mother died of kidney failure. Up until that point, the best thing I could offer her was going to Baclaran to buy cheap dresses and eat at a carinderia because I was only earning P3000-4000 every month. When my contractual job ended in 2005, I found myself at home, jobless, thinking about my future. What's next for me? I'm not choosy when it comes to work but 6 years in the food industry— the heat on my face while grilling meat, staying inside below zero food chillers for hours to stack products, skin burns and cuts while preparing food—I needed a new environment.
"I had no expectations to get the job."
My cousin Raymond prodded me to apply for a call center agent position. I didn't have a clue know what the job was but Raymond said that he would take care of my lunch and transportation allowance so I said yes. With no confidence or money of my own, I went to the interview thinking "just finish this so that you can have the promised lunch." I had no expectations to get the job.
Surprisingly, however, I was hired. The job offer made me feel like I could finally help my family—it was three times what I was earning before.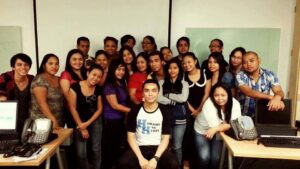 My first day of training was difficult. I didn't have any experience communicating in English for an 8 hour shift and the technical terms had me thinking that I wouldn't make it through training. Not being used to graveyard shifts led to reprimands for sleeping on the job. This pushed me to keep trying.
Fortunately, I passed and got my first account. It was an outbound campaign with a daily quota and strict documentation which wasn't my strong suit. Four months in and I had three consecutive failed audits made by the client. It's difficult to forget the words, "Take Mark Manlapaz out of my account!" in bold, red letters. 
Diamond in the rough
In May of 2006, Harte Hanks had acquired a mobility account and was looking for 14 pioneer agents. It was then that I was re-profiled and became one of the pioneers for the account. Despite not being tech savvy, I endured yet another learning process. It was not easy changing and adapting to accounts—but I didn't stop.  I always wanted to be better.
It was a year of taking in calls and it started feeling fulfilling at some point. I gained more knowledge and confidence over the phone.  Work was stable and was putting food on the table. The account was growing fast and new team members come in. Having a head start, mentoring them was inevitable. Not for long, I applied for a trainer position and the rest is history.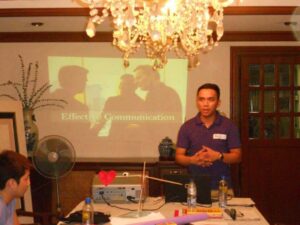 It's a beautiful world
In 2010, I then tried my luck in Singapore thus resigning from my work at Harte Hanks. After 4 months, I came home and Harte Hanks welcomed me back with open arms. I got to keep everything—my old position, my salary and my entire compensation package. Today, I've been with Harte Hanks for 11 years as a senior trainer for both Product Specifics and Communication Skills.
Everything I learned from working at Harte Hanks led to so many opportunities. Three years ago, someone saw "communication specialist" on my Facebook profile and invited me to do a Q&A training session with one of her beauty pageant candidates. I said yes because I spent most weekends at home and this was an opportunity to share my knowledge on communications and confidence building to the beauty pageant world.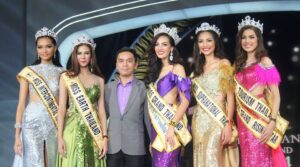 Three months later and the girl I trained went off to win Bb. Pilipinas and an international beauty title. From then on, I've been training beauty pageant aspirants and preparing them for competition. I consider this profession a way for me to show the skills I got from the Harte Hanks as well as motivating people to work towards their goals in life.
Harte Hanks is more than just a job. In fact, I don't consider the place an office but a home. Harte Hanks for me is family. Seeing people that I've trained grow their careers and achieve their goals is the most rewarding thing. In the future, I hope to put up my own business focused on training services. It will provide communications, customer service, and personality development training.
Now we're here
My story started from the bottom. My family did not have any tangibles but the sheer determination to succeed—even in the most difficult part of our lives—allowed me to get to where I am. My mother taught me that anything was possible and she was right. I've learned to never use poverty as an excuse for anything, putting family first and allowing them to inspire me towards better things. My upbringing and values as a child have defined my work ethic and motivation as an adult.
Today, I can not only take care of myself but my family too. For the last 10 years I have been living independently. With what I earn, I support my brother's family and take care of my father and his medications. Personally, maturity is something that I have right now because of all these experiences. It taught me how to be level-headed and not allow situations to affect me. It also helped me how to see things in a better perspective.
Advice for aspirants
Don't look for a job that only pays well. Find a workplace that you can build your own career and yourself. The challenges of starting out—low compensation, long hours—are temporary. Focus on the long term plan of building your career. Start now and do good. Harte Hanks gave me the opportunity to have a healthy work environment, facilities that make the work comfortable, colleagues that are my family and an office that is my home.
Failure, or a difficult life, are not meant to break you but to prepare you as you face much bigger challenges. Everything that is happening in everyone's life, whether good or bad, will lead to a better purpose. Difficult times make us realize how important it is to persevere and strive for more. Despite what it seemed, I enjoyed my life and if I wasn't able to experience bad times, I don't think I would appreciate the life I have right now.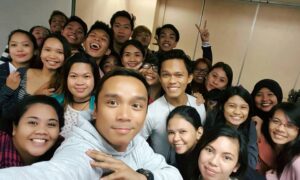 Sign up on Kalibrr today and find the right job for you. You can also subscribe to our weekly newsletter and get Kalibrr Career Advice straight from your inbox.