For Jobseeker
From Account Manager to Waitress: A True Story of Moving to the US

Graduate college, become an Account Manager in an advertising agency, work at a flower shop, wait tables.
It definitely does not sound like the most glamorous career trajectory, but for many Filipinos who move go abroad and start from nothing, this is what their resume will probably look like.
Halima Altaie, or Hallsy to her friends, graduated from Ateneo de Manila University in 2011. Like many of the people in her course, AB Communication , she went on to work in an advertising agency as an account manager. If she had stayed in the Philippines, Hallsy might probably still be working in the same field. Over the four years since graduating, she would've earned enough experience to climb up the pay grade and maybe even get a more senior position. Instead, Hallsy moved to San Diego in April of 2012, only a year after graduating and starting her advertising job.

Hallsy revealed that the process of finding her bearings in a new place involved eating her pride.
"When I moved to San Diego, I didn't really know anyone. Nobody knew or cared about where I graduated from," she said.
"I don't think any of the companies I applied for took me seriously because my work experience and education were from places they haven't heard of or would be a hassle to verify."
Filipina Blues in America
For many people in her position, this is the part where the reality of having zero connections will force you to take jobs you never thought you would. It seems like a bleak move, but that's why they call it "starting from zero." For a while, Hallsy worked in a flower shop, a farmers market, and a restaurant, all at the same time. Paid by the hour, Hallsy juggled jobs and work on the weekends — the same things people around her did to chase their American dreams. 
"People are so absorbed with work and almost everyone I know just let their work swallow them whole. For a lot of us, our day mostly consists of work, eat, sleep, repeat."
She described this transition period with complete openness saying, in America, people are "not as family- and values-oriented — (they are) more focused on efficiency and results. Almost everyone I know that moved from the Philippines had some phase of depression moving here."
Despite the blues, bills still had to be paid and she still had to eat, so she had to work through it, depression and all. A self-aware millenmial, Hallsy was frank about what it was like.

"Take note, I was no supervisor or manager and by no means did I have a spot in anything corporate. I was at the bottom of the food chain. I was a cashier and server for a restaurant and one of our regular customers was asking why I was working for a restaurant if I was once an account manager for an ad agency in the Philippines. I said no one would hire me."
Serendipity struck soon, however, and someone eventually did hire her. The same person who asked Hallsy why she was working in a restaurant despite her ad stint offered her a job in his company and she grabbed the chance. Next thing she knows, she's been working as a Senior Project Manager for three years in SlideGenius, a company owned by the man's business partner. After forging through and dedicating herself to making ends meet, she now finds herself in a workplace she loves. "I'm surrounded by the best co workers I could ask for. The company is all about hard-working and determined creative minds."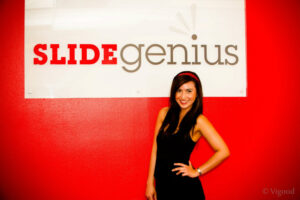 'It forces you to grow up'
Still, Hallsy is just as honest about the good things moving away from home has brought. "It forces you to grow up. It's not as family-oriented and you can't depend on your parents anymore to save you or house you. You have to be responsible for yourself. I like that moving here gave me the ability to support and learn to fend for myself." 
It also doesn't hurt that the pay is excellent.
"I won't hold back, one of the best things of working here is the pay," she beamed. "Here, people don't see it as grand. But compared to working in the Philippines, it's a huge jump. What I made in the Philippines in a month, I made here in about 3 days."
Moving to the US may not be for everyone and if you are moving, it will surely be a test just like Hallsy's experience was. The bright side comes in the form of the sweet personal victory in finding you've successfully settled in a place you once considered alien territory.
"I'm happy with where I am at now," said Hallsy. "Reaching success starting from the bottom, of not knowing anyone, and no one caring about where you graduated from is fulfilling."
Sign up on Kalibrr today and find the right job for you. You can also subscribe to our weekly newsletter and get Kalibrr Career Advice straight from your inbox!