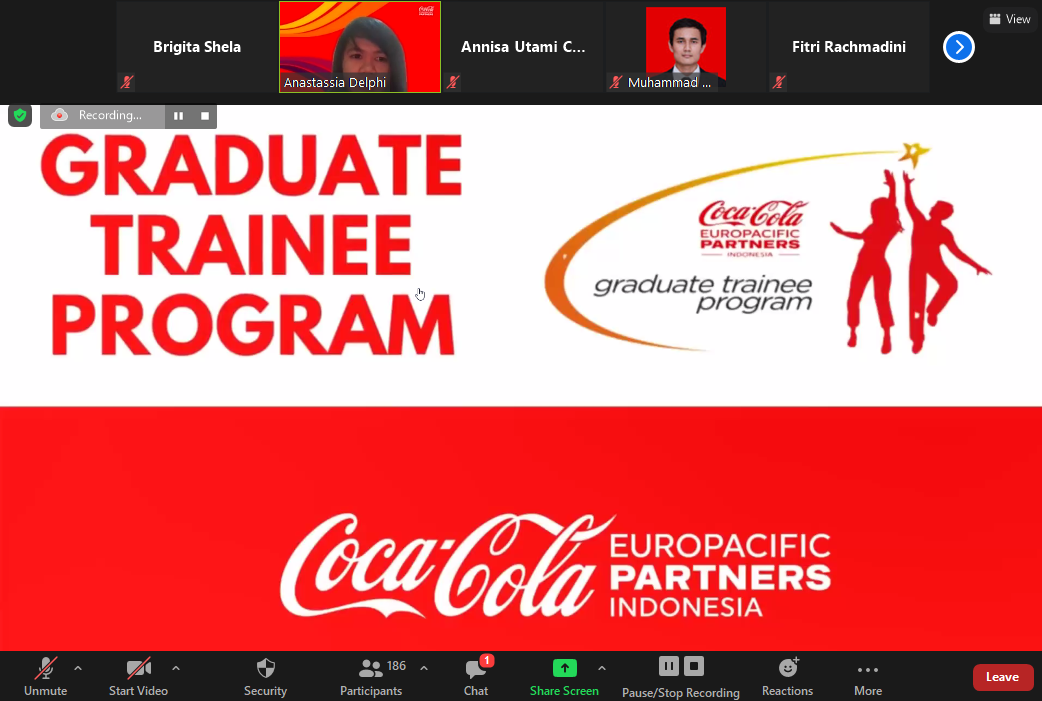 B2B
Swift Changes in Massive Hiring: See How Coca-Cola Amatil Indonesia Transformed Their Recruitment into a One Day Virtual Recruitment Process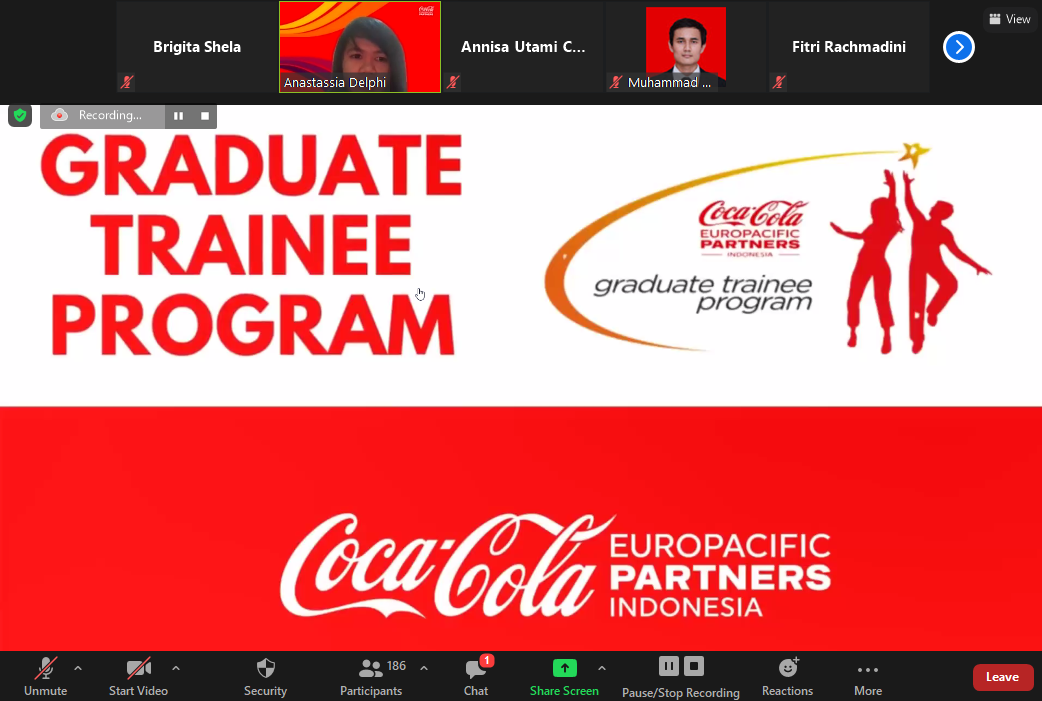 More than a year into the pandemic, people are proceeding and prioritizing activities virtually. Gathering became a sequence of Zoom Meetings, Working From Office (WFO) became Working From Everywhere (WFE), splendour offline events became an all online-based event, and so does the recruitment process. With the rapid changes happening globally at this moment, a company is expected to adapt and seek the most reliable, effective, and safe ways to recruit new candidates.
Established in 1992, Coca-Cola Amatil Indonesia (CCAI) is the largest bottler and distributor of non-alcoholic ready-to-drink beverages in Indonesia. With more than 9.500 employees and 500.000 active customers, CCAI is widely recognized as one of the best places for candidates to kick start their career. Known for its Management Trainee Program called Graduate Trainee Program (GTP), CCAI used to conduct onsite recruitment, from written test to Leaderless Group Discussion (LGD) and finally an interview session. CCAI strives to always ensure that their candidate experiences are well executed.
The tremendous and swift effects on recruitment culture in the midst of pandemic is certainly a challenge for every company. Answering this matter, Kalibrr stepped in to assist CCAI in conducting the online recruitment process for GTP position through the One Day Virtual Recruitment Process (ODVRP).
Revive CCAI Employer Branding Through Social Media
The first thing that we did was to analyze the target participants who would likely be joining the GTP Program. Activation was important to be disseminated to the targeted candidates using the right channels and platforms. With Kalibrr's strong database, we're confident that the best talent is right there, ready to be assigned as GTPs.
Aimed to raise the awareness of their employer branding through this massive hiring activation, we arranged a social media advertisement using Facebook and Instagram to boost the application numbers. And the result was astounding. Within 31 days, we managed to reach the impression of 3,534,519 and exceeded 169,643 job post views and a total of 34,271 applications.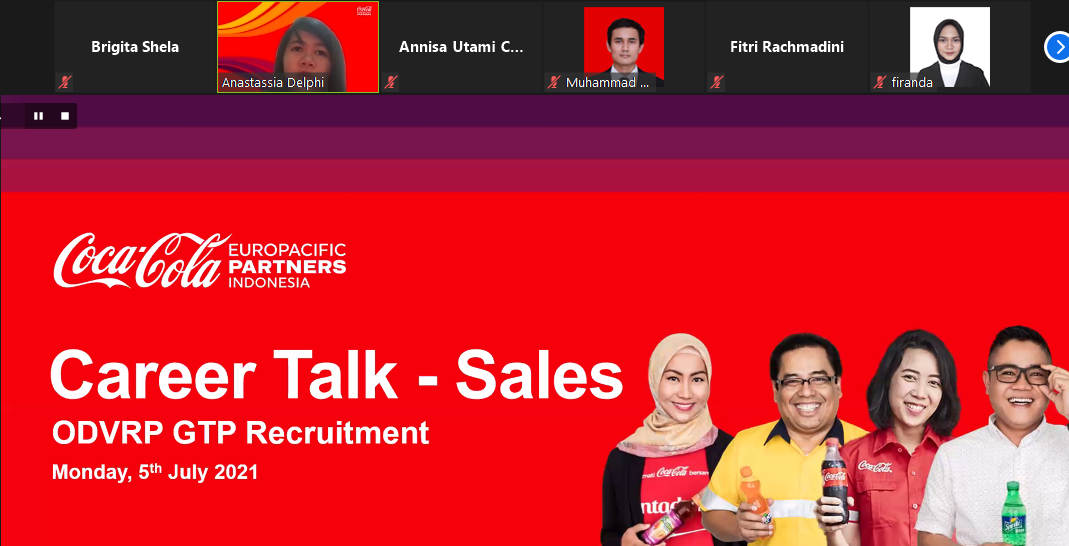 Shifting The Usual On-Site Recruitment Process into Virtual Recruitment
The One Day Virtual Recruitment Process was held virtually in one day by accommodating thousands of candidates. Kalibrr was responsible for the event management and  executing the end-to-end process of this recruitment. From inviting the candidates, arranging the right assessment for the written test, giving them clear and comprehensive instructions for the whole recruitment process, to facilitating professional psychologists for the LGD session-- all of these being held virtually. Our goal was to help CCAI maintain a positive candidate experience for this program.
In total, Kalibrr had successfully invited more than 2,000 candidates for 3 ODVRP events. We successfully screened out thousands of  candidates to 307 applicants throughout the recruitment process from the written test, Leaderless Group Discussion (LGD), to Roleplay Test. We also received several compliments from the candidates, saying that their experience for the ODVRP was seamless and effective, although it was being held online. One of the ODVRP candidates, Priskila T., stated, "The whole recruitment process of ODVRP was well-informed, effective, and especially memorable even when there were no face-to-face interactions! Thank you, Kalibrr!"
Activating Employer Value Proposition
In addition to conducting a massive recruitment through ODVRP, Coca-Cola Amatil Indonesia also gave a company presentation to all candidates who attended the event. Through this session, candidates were given information and opportunities to ask questions, as well as interact directly with professionals at Coca-Cola Amatil Indonesia to find out more about the company's values and culture. This certainly helps CCAI activate their Employer Value to potential candidates, who will later work directly for Coca-Cola Amatil Indonesia.
Kalibrr is delighted to be a part of the ODVRP event held by Coca-Cola Amatil Indonesia. We hope that our services will give valuable contributions to the success of the Graduate Trainee Program as well as the company.