Others
How everyday workers can help those affected by #LandoPH
Over the weekend, the Philippines saw the coming of the weather disturbance Lando, internationally known as Koppu. On Saturday, October 17, the United States Navy's Joint Typhoon Warning Center elevated Lando's status to a
super typhoon
. Sending strong winds and very heavy rains to the northern part of Luzon, state weather bureau PAGASA put up signal #4 in Southern Isabela and signal #3 in the east of Isabela, Quirino, Nueva Vizcaya, Nueva Ecija, Ifugao, and Northern Quezon including Polillo Islands. As of Tuesday, October 20, Lando has weakened to a
tropical storm
 yet, it leaves destroyed and flooded lands in its wake. According to the
Department of Social Welfare and Development
, as of October 20 a total of 121,893 families or 560,754 persons are affected. In
Nueva Ecija
, Luzon's rice granary, rice farms all over the area have been destroyed resulting in a loss of a total of P5.9 billion worth of crops. In
Casiguran, Aurora
, nearly 100% of the houses and the infrastructure were damaged. According to Casiguran's municipal disaster office, at least two had died and 20 injured as of Monday. In
Cabanatuan
, residents say they had "never experienced these kinds of floods before," with some barangays still head-high in flood on Tuesday morning. In
Tuguegarao
, more than 8,000 individuals or 1,791 families are affected by the flood waters and the rise of the Cagayan River's water levels. In the
Cordillera region
, 5 were counted to be killed by Lando's wrath as of the latest count. The stories speak of a need for recovery time and continuous aid. If reading about your fellow Filipinos affected by this latest typhoon has made you feel helpless in your office chair, know that there are always ways you can help even as you work your daily job. Kalibrr compiles a list of ways you can  help Filipinos affected by #LandoPH.
Volunteer with Rappler's Project Agos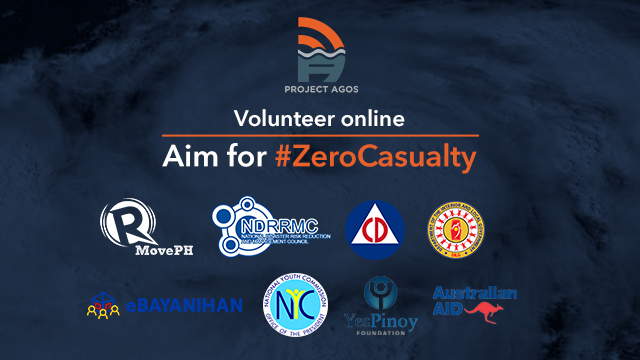 Hosted by Rappler's civic engagement arm MovePH, and participated in by the
Office of Civil Defense
, the 
National Youth Commission
,
YesPinoy
, and
e-Bayanihan
, Project Agos is a platform that gathers critical information online about people stranded in calamity and needing aid, and makes sure the information reaches parties and groups who can provide the needed help. From your seat, you can help monitor reports of floods, landslides, people in need of rescue, infrastructure damage, relief needs and so on. Specifically, the information will be relayed to national goverment agencies and local responders. If you have a lengthy break or if you have energy before or after work,
volunteer.
 Any amount of manpower can help. Your report could end up in lives being saved and improved.
Start a donation drive at the office
In times of disaster, spare clothing, food and medical supplies can be worth more than money. Start your own office drive for donations in-kind that you can send to the thousands of Filipinos affected by #LandoPH. You can send them to the following places and groups
Volunteer
If
you have time, you can volunteer with Operation Tulong Bayan. They are based in Araneta Center Cubao and they need help in packing relief goods. See more information below.
Use social media responsibly
While aid is ongoing, let's not use relevant hashtags (#LandoPH, #ReliefPH, #RescuePH, #FloodsPH) on our social media accounts unless it's useful information.
Support local businesses
Though this is not something we can do to help them right now, in the long term we can support their recovery by supporting businesses and buying products that come from affected areas.
Everyone can help no matter where they are and no matter what they do for a living. Do you know of any other ways workers from Manila and other cities can help Filipinos affected by the flood? Let us know in the comments below.