Job Search Tips
3 Unexpected Ways College Prepared You For The Real World
Everyone talks about how coming in to the 'Real World' is hard and there is really no way prepare for it. The School of Life does not have "Cost Estimation for Agencies 101" or "Introduction to Client Management". Once graduation comes around, you are basically on your own. For some, college was all just about having fun.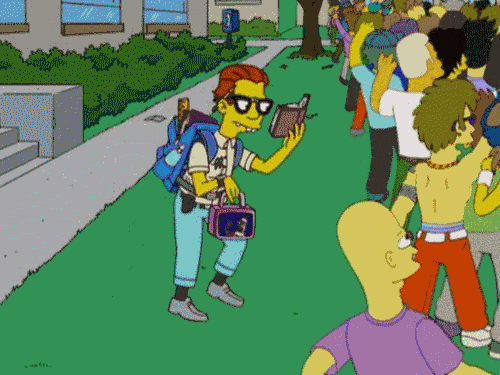 Source: Simpsons Wikia
We all like to say that what you major in will not necessarily dictate the course of your career, and that everything we took up in university ended up being useless in the real world. But college
did
arm us with a few soft skills that would prove useful in any job:
Making Presentations
First: At one point in most occupations, speaking in front of people and sharing something about yourself or the work you do will be unavoidable. If you are shy and manage to hide from these situations, it will still find you at least once or twice in every job. Suddenly, those oral book reports and graded recitations come in handy.  Maximize that experience by remembering feedback your professors gave you:
Do not read what is on the document or slide while presenting
Know your presentation by heart
Make eye contact; don't stare at your feet
Spell check
Do not abuse hitting Right Click + Synonyms
Second: The use of Word, Powerpoint, or Excel is a big part of most corporate employees' day-to-day. Manipulating office applications might be something that is expected of every employee, but you will be surprised how some people think pivot tables or timed animation is something people make up. Always deliver high quality output even during what you might think are run-of the mill presentations because it does reflect on how you are as a professional. Marketing advocates like
Jesse Desjardins
are so passionate about presenting content well that he created this:
You Suck At PowerPoint! by @jessedee
from
Jesse Desjardins - @jessedee
See more of Jesse's tips on presentations
here.
Getting Jobs Done
Things frowned upon during college were: taking the easy way out, all-nighters, and cramming. But these are actually important skills valued at work. Recruiters and managers have different words to describe them, but they are basically looking for people who value getting the job done and working smartly.
Taking the Easy Way = Work Smarter not Harder
Before anything else, this is not about cutting corners. Working Smarter looks at a person's ability to give the best output without expending all resources like time and energy. College framed most students into thinking that following the rules and doing things step-by-step is how to get things done, but the 'Real World' and its employers look at efficiency.
All-nighters = Showing Passion and Ownership
There will be times that despite working smarter, the hours in one day won't be enough to finish the workload. Although it is not required nor encouraged by employers, seeing their teams stay in the office until late for important tasks show how they take responsibility for their clients and their jobs. Just try to take cat naps in between. You will realize that the magical power given by instant ramen cups will diminish as you grow older.
Cramming = Thinking on your Feet
Technology's growing pace affects how we do our work. The need for companies and agencies to adapt to trends and discoveries are moving way faster than it was twenty, even ten years ago. That means employees face requests that are not all too familiar and at the same time urgent. These moments push people to be creative and exercise prioritization and decision-making. Being able to cope during stressful situations and applying critical thinking to solve problems on the go is an ability everyone wants to achieve.
Knowing How to Collaborate
Group work. Some people thrive in it and some people loathe it, but like public speaking, the Real World throws you into group work within your office or with different business partners.  As in college, it is hardly likely to see everyone do the work they are assigned and that you would get along with everyone in the group. The good thing is that those experiences taught you how to adapt and deal with unavoidable situations like these. The added bonus in the Real World is that you are given extra opportunities to show either leadership or collaboration skills. Employers and key team members take note if you rise to those occasions and usually give rewards or commendations that will boost your career.
Educators are replacing 3 Rs (Reading, Writing, and Arithmetic) with the 4 C's to Prepare 21st Century Students for a Global Society. The 4 C's are: Critical Thinking & Problem Solving, Collaboration, Communication, and Creativity & Innovation.
Sound familiar? At the end of the day, evaluating your skills and performance will be split between things you can learn versus your approach to work. Schools might not have the curriculum for some technical aspects of your job but they do aim to teach you how to adapt to today's work environment. When you find yourself stumped at work, try drawing situations from college or even earlier years. You'll be surprised at how those experiences can help you.
Image Source: NBC News